Furnace Repair, Maintenance & Installation in Buffalo, Lockport, Tonawanda, NY
Keeping You Safe and Comfortable All Season Long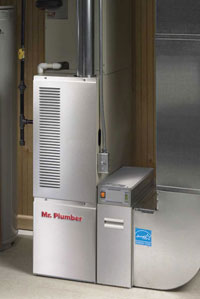 Mr. Plumber has been servicing the northwest New York area for the past 27 years becoming the largest company in the area. Our dedication to quality service and work has led to our recognition as the trusted plumbing expert.
24/7 Emergency Repair Service
New Furnace Installation
Heating Tuneups & Inspections
Free Cost Estimates
Financing & Preferred Pricing Available
Keeping your furnace at top performance in Buffalo is crucial to a comfortable and safe winter season. Average temperatures in Buffalo, NY, have three months below 40 degrees with average lows of 19 degrees. Four more months have an average temperature below 60 degrees with lows in the 40's. That's 7 months of heavy furnace activity.
At Frank's Mr. Plumber we encourage regular tune-ups and inspections in order to ensure your furnace is working properly. Silent killers like carbon monoxide poisoning often stem from a damaged furnace.
Preferred Pricing for Tune-Ups and Regular Inspections
We're so committed to avoiding unnecessary disruptions in service; we even offer preferred pricing to those who request tune-ups and inspections every year. Helping our customers avoid unscheduled problems is our goal, and education is the key to a no hassle winter. We'll show you how to best service your furnace and what considerations are warrantied for best results.
24/7 Emergency Furnace Service
We at Frank's Mr. Plumber have qualified heating specialists available any time day or night. We will happily consult on any heating emergency 24 hours a day, 7 days a week, 365 days a year.
We will repair your furnace right away unless there are better options for our clients. When issues arise with your furnace it can be as costly to repair as purchasing a new furnace. We will provide the best choices and pricing options before doing any work.
We work with only the highest quality furnace manufacturers in the business. In order to install your furnace correctly, our technicians are trained in each of our systems, giving you a quick and worry free experience.
We work in Lockport, Buffalo, Tonawanda, Niagara Falls, North Tonawanda, Hamburg, Lancaster, Orchard Park, Depew, Amherst, Grand Island. Call us today for a free consultation.
Don't Forget to Tune-Up the Furnace!

We'll study your home to make sure you get the RIGHT heating system—we'll never sell you more than you need. And our expert Comfort Crew will install it correctly, guaranteed—so that it runs efficiently and saves you money every month (you can expect to lower heating bills by 20-30%).
Energy-Efficient Heating Systems
Schedule your complete home heating inspection and tune-up. An inspection ensures your equipment is operating safely and not leaking dangerous carbon monoxide into your home. Preventive maintenance also saves money by maximizing efficiency and minimizing costly breakdowns.
Heating and cooling systems are the biggest energy expense in most homes, accounting for 35%-50% of total energy expenses. Frank's Mr. Plumber can evaluate your current heating system and provide a free quote on a super-efficient system that will save you money. Call or email today for a free quote.
Types of Furnaces
For many homeowners, the type of furnace installed in your home depends on the type of fuel that is available locally. However, it is possible to switch fuel types when installing a new furnace.
In addition to being classified by fuel type, furnaces are also described in the following ways:
BTU output. The heat output of a furnace is listed in thousands of btus (80,000 btu, for example) and denotes the amount of heat energy the appliance can produce.
Annual Fuel Utilization Efficiency. A standard measure of efficiency for furnaces, AFUE tells you the percentage of input energy the furnace can convert to output energy for warming your home.
Configuration. A "high-boy" furnace is a tall model with the blower located under the heat exchanger. A "low-boy" furnace has the blower in back of the heat exchanger, making it shorter.
Combustion. A "sealed combustion" furnace, also known as a high-efficiency furnace, requires no chimney and no indoor air for combustion. Instead, outside air is brought in through a small pipe to provide oxygen for combustion, and flue gases are piped directly outside. Old-style "atmospheric combustion" furnaces require a chimney and rely on indoor air for combustion. A sealed combustion furnace is more suitable for a tight, well-insulated house.
Our TrueComfort Service
1. The TrueComfort of Not Overbuying.
Many try to sell you an oversized furnace, saying "bigger is better." It's not. It's just more expensive to install and run. And it cycles on and off to quickly, leaving your home with hot and cold spots. Our heating technician will analyze your house and determine the system that is just right for your home to keep you and your family warm and comfortable—all over the house, and even on the coldest nights.
2. The TrueComfort of Avoiding Installation Headaches.
Experts report that many heating equipment breakdowns—as well as 30% to 50% of heat loss in homes—are due to improper installations! With Mr. Plumber, you'll have the comfort of knowing that your system is installed correctly: we tune and calibrate your entire heating system to run smoothly and efficiently. And our installations are usually completed in one day!
3. The TrueComfort of Preventing Breakdowns & Costly Repairs.
Frank's Mr. Plumber brand name heating systems are so reliable, they come with an ironclad 5-year warranty: it's very comforting to know that you cannot spend one penny on repairs for five years.
4. The TrueComfort of Reducing Monthly Fuel Bills.
Here's another comforting thought: our heating systems could actually save you 20-40% on monthly heating bills because they are so energy efficient.
5. The TrueComfort of Taking the Pain out of Paying.
Frank's Mr. Plumber offers easy financing: with credit approval, you can get a new system with no payments or interest for the first six months, plus no money down and low ongoing payments. Now that's True Comfort!
We offer free furnace estimates in Buffalo, Niagara Falls, Tonawanda, Hamburg, North Tonawanda, Niagara Falls, Orchard Park, Amherst, Depew, Grand Island, Lancaster and nearby. Contact us today!