Home HVAC Services in Buffalo, Lockport, Tonawanda
Upgrades & Maintenance For Your Heating, Ventilation, & Air Conditioning Systems
For decades, the costs of electricity, natural gas, and heating oil has risen continually. And with a dismal future ahead for fossil fuel costs, we can be certain that the days of not having to worry about or heating bills are long gone.
They key to keeping on top of your utility bills today is to maximize on the home's energy efficiency. A key part of making this happen is to maintain and upgrade your heating and cooling systems whenever possible.
At Frank's Mr. Plumber, we are trained and experienced in home energy services of all types. To meet with one of our experts for a free home energy upgrade quote, contact us today! We proudly serve New York, including Lockport, Buffalo, Tonawanda, Niagara Falls, North Tonawanda, Hamburg, Lancaster, Orchard Park, Depew, Amherst, Grand Island, and nearby.
Our Professional HVAC Services
Maintaining the systems that heat, cool, and ventilate your home is vital to creating the most efficient, comfortable, and healthy home you can. It doesn't take much dust and dirt to significantly compromise a system. For example, a buildup of even 0.42 inches on your air ducts can reduce your system's efficiency by 21% or more!
At Frank's Mr. Plumber, we offer our customers the following four HVAC services: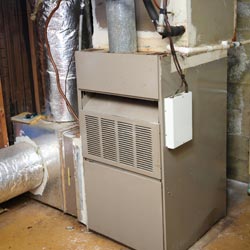 Heating Services
Like all appliances in your home, your heating system will run better and more efficiency if it's properly maintained.
Our HVAC specialists can provide you with a complete service package for your heating system, including preferred packages for long-term customers. And when the time comes to replace your old system, we can provide you with a complete analysis of your home, selecting a correctly sized system for your home. This will maximize your home's energy efficiency and comfort.
If you have a heating emergency, our experts also offer immediate service, and are available 24 hours a day, 365 days a year to arrive at your home and turn the problem around.
More on our Heating Services
---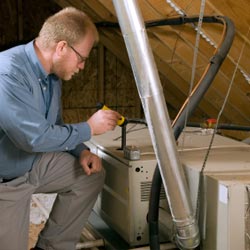 Air Conditioning
Properly maintain your air conditioning system, and it can last you for as much as 20 years. However, it's important to balance the lifespan of your system against the potential benefits of upgrading to a newer, more energy efficient model.
Modern cooling systems take advantage of many advancements that can save significantly on your energy bills -- including more efficient design and programmable digital controls.
A professional can work with you to balance the costs against the expense, and can determine if your system is sized properly, sealed to maximize efficiency, and is what you need to maintain a well-conditioned home.
More on our Air Conditioning Services
---
Ductwork Cleaning
Indoor air pollution levels can be hundreds of times higher than they are outdoors. If your home is sealed, it becomes more important than ever to pay attention to these levels to make sure your home environment is healthy.
Our experts are qualified to inspect your home and advise you on some key points where indoor air quality may be improved, including cleaning your furnace and ductwork.
As an added benefit, we've seen the efficiency of a home's HVAC system improve dramatically, saving homeowners as much as 40% on their heating and cooling bills. This is a small maintenance job that can make a big improvement in your home!
More on our Ductwork Cleaning Services
Let Us Help You Maximize Your Comfort And Energy Savings!
For pricing and scheduling for our HVAC system maintenance, or to schedule a free, no-obligation energy upgrade quote for a new HVAC system in your home, contact us by phone or e-mail today!
Our experts at Frank's Mr. Plumber, are proud to serve the New York area, including Tonawanda, Lockport, Buffalo, North Tonawanda, Niagara Falls, Lancaster, Hamburg, Amherst, Depew, Grand Island, Orchard Park, and many surrounding areas.